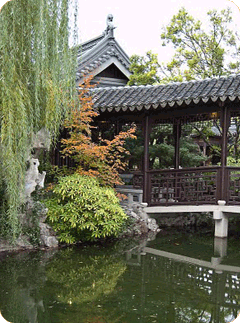 Non-attachment
from
Uranus
by Eric Meyers
continued from part 1
Saturn is the gatekeeper that forbids entrance to Uranus, but it's also the gateway. When we have the attitude that "There is no place in the world I'd rather be," then the world opens up to us. Once reality is completely welcomed, we are able to perceive and experience the intelligence of the present moment. The soul transcends egoic needs in order for soul development to proceed. Spiritual growth is not concerned with life being "easy" or "hard," and it has no use for other dualistic terms, such as "bad" or "good," that label experience. If the past is reconciled and successful closure is achieved, there would be no emotional preferences to have life unfold in a particular way. Every experience is approached and received as being beneficial. What we defend against or fear shows us where we are stuck in our suffering.
Freedom (Uranus) arrives when we give up the idea that we are in charge of our lives. When we become aware that we are unfinished students, we welcome the teacher in all of its many forms, including, and especially, the difficult ones. There is awareness that whatever challenging events happened in the past were spiritually necessary. We change our perceptions and interpretations about these past events, with the realization that what happened may not have been what it appeared to be at the time. It was actually purposeful and designed to trigger awakening and growth. This is the spirit of Uranus. When we integrate this, we then become excited about life, even about the "worst" that could possibly happen! Being "spiritual," then, means accepting all of life, even when events do not unfold to our liking.
So, freedom (Uranus) is the release of the personal. We identify as being part of Nature, which just exists. Whether it's hot or cold, dry or windy, the grass and trees don't seem to mind. If nuclear bombs fell from the sky, how does the sand in the desert react? It just goes along. And we can go along, too, no matter what should unfold. In a benevolent world, it's all good. There is less and less need for rules or for the imposing of an order. Problems are for the Saturnian world. When we transcend this, nothing is really a problem because everything is welcome.
This is a challenging concept for more many to agree with. One might wonder, "What if a chainsaw was shredding your arm? Would you just be curious about the bits of flesh and bone splattering? Would you really welcome that?" The problem with this question is that a chainsaw isn't shredding anybody's arm. Non-attachment has to do with accepting reality, not hypotheticals. If this unlikely event were to happen, there would be some definite reasons why—particularly; the relationship of the wielder of the chainsaw with the victim would be relevant. This is not included in the hypothetical question.
What about death? Annihilation is the ultimate threat to the ego and most people continually strategize to avoid it. This is more imprisonment from Saturn, known as the Reaper himself. Uranus informs us about the recycling of energy. It happens at every other level, and it must occur here. Since energy can never be created or destroyed, it must be transformed in some way. This begins a discussion of the idea of reincarnation, which most people have strong opinions about. It boils down to one question: in light of this mind-boggling benevolent intelligence, should death be feared as the final blow of a harsh existence, or should death be viewed as liberation, as a chance for further growth? Which makes more sense? My view is that until we see death as the tremendous gift or opportunity it is, we will be imprisoned, with Saturn as the jailor.
Non-attachment is the understanding that ultimately nothing belongs to us. Everything is "borrowed" from Spirit, and all is bound to return. When we hold on to what wasn't ours in the first place, there can only be pain. Eventually we'll have to give it back, so why not free the self now through non-attachment? Our essential nature is infinite and free, though temporarily confined within the Saturnian world through incarnation. Bringing the transpersonal (Uranus and out) into the personal (Saturn and in) is how we give the gift of life back to Spirit. By being agents for conscious spiritual evolution, we become part of the solution on this planet, not the problem. This has nothing to do with religion (Jupiter) and everything to do with the development of consciousness (which often leads to a trans-denominational approach). Along with the other transpersonal planets, Uranus is universal.
Non-attachment is vastly different from detachment. With non-attachment, there is no apathy or impotence—instead, the self is allowed to come home. Then, engagement with life becomes even more vivid, invested, animated, and meaningful. The egoic self can be used skillfully—it can be a trickster (Uranus), a vehicle for change. Furthermore, Neptune is the planet that comes after Uranus. Neptune involves compassion and a love for nature and humanity; it is an emotionalizing energy that is impersonal yet beautiful. Allowing this love to flow through the self brings an even deeper engagement with life. Pluto then brings a greater urgency, a spiritual responsibility to assume power and help shape the collective destiny. Those who approach the outer planet energies from the ego are prone to being erratic (Uranus), delusional (Neptune), or controlling (Pluto), among many other hazards. Through non-attachment, these energies are honored and used intentionally.